Say goodbye to all of this, and hello... to oblivion!
Riff Raff is a character from the musical productions of The Rocky Horror Show since 1973, from the 1975 movie, from the 2015 tribute production celebrating 40 years, from the 2016 reimagining movie, and from the never made sequels Rocky Horror Shows His Heels, Revenge of the Old Queen, and Rocky Horror: The Second Coming.
He was portrayed by Richard O'Brien in the 1973 Original London Production, in the 1975 Broadway Production, and in the 1975 film adaptation; by Bruce "Zahariades" Scott in the 1974 Roxy Production, by Raúl Esparza in the 2001 Broadway Revival, by Kristian Lavercombe in the 2015 live tribute production, and by Reeve Carney in the 2016 reimagining movie.
Biography
While Dr. Frank-N-Furter is hosting a party for the unveiling of his creation, Rocky Horror, a young, newly engaged couple, Brad Majors and Janet Weiss, has their tire pop, so they wander through the rain, finding themselves at Frank's castle. The door is answered by Riff Raff who leads the couple inside, and Janet asks if they're having a party, and Riff Raff reveals it is one of the master's affairs. Janet states that he is lucky, and his sister Magenta appears and says everyone's lucky.
Riff Raff and his sister then proceed to sing "The Time Warp", with some help from the castle's groupie, Columbia, and some Transylvanians at the party. The master of the house Frank then comes down the lift, singing his song, "Sweet Transvestite", and shamelessly invites Brad and Janet up to the lab, to see what's on the slab.
Riff Raff and Magenta go to strip Brad and Janet down to their underclothes, Riff Raff taking Janet. Up in the lab, Magenta and Columbia assist Riff Raff while Frank flirts with Brad and Janet. Riff Raff interrupts him, and he unveils Rocky Horror. He sings him a song, which Eddie, the ex-pizza delivery boy, breaks out of the freezer, but Frank kills him for stealing his glory.
Later, while Brad and Janet are in their separate rooms, Riff Raff and Magenta watch them over the monitor, and after the seduction of Janet, let Rocky free, chasing him out with fire.
After Janet sings "Touch-a Touch-a Touch Me" to Rocky, Frank beats Riff Raff by lashing him for Rocky's "disappearance", but Dr. Scott arrives and is forced up to the lab.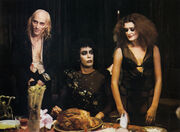 After Magenta announces that dinner is ready, Riff Raff serves the meal. The meal is later revealed to be Eddie, and when the table cloth is pulled off, his decaying corpse is revealed. Riff Raff screams at Magenta for laughing so much when everyone runs out of the room, and she cries.
After everyone is in the laboratory again, Frank nods to Riff Raff and Magenta, and they turn Brad, Dr. Scott, and Janet into statues. Columbia rebels, and Frank turns her into a statue as well. Posing, Rocky gets turned into a statue too.
Frank has his floorshow, and Riff Raff and Magenta burst in, in their spacesuits, and declare to Frank his lifestyle's too extreme, and they're going back to their galaxy. Then Frank sings a song, "I'm Going Home", until Riff Raff declares that Frank will be staying on earth, in spirit, anyway. Columbia screams, and Riff Raff shoots her. Frank realizes it's real, so he, of course, freaks out, gets shot, and dies. Rocky cries over him, carrying his body up the RKO tower, finally dying, and falling in the pool. Riff Raff tells Brad, Janet and Dr. Scott to get out, having his and Magenta's final confrontation before the castle takes off for Transsexual while they sing the "Time Warp reprise".
The character is portrayed by Richard O'Brien in the film. He is a parody of Frankenstein's servant, Fritz/Igor.
Music
Riff Raff has solos in:
Riff Raff sings as company (chorus) in:
Trivia
O'Brien would go on to host Channel 4 gameshow The Crystal Maze from 1990-3. His successor, Ed Tudor-Pole, who took over from 1994-5, had coincidentally played Riff Raff in the 1990 London revival of The Rocky Horror Show.
He was portayed by Richard O'Brien, the man who created the whole musical.
O'Brien is also notable for playing Fico in 1980's Flash Gordon, and also presenting the first four seasons of cult classic 1990's game show The Crystal Maze. Ironically, his Crystal Maze successor, Edward Tudor-Pole (from the rock band Tenpole Tudor), also appears in this film.
He is not really evil, as he apologized to Dr. Scott after his nephew died and allowed him, Brad and Janet to leave before their house disappears.
Gallery
Film Stills
Production
To read more about The Rocky Horror Show:
To read more about Rocky Horror Wiki:
Ad blocker interference detected!
Wikia is a free-to-use site that makes money from advertising. We have a modified experience for viewers using ad blockers

Wikia is not accessible if you've made further modifications. Remove the custom ad blocker rule(s) and the page will load as expected.