Judge Oliver Wright is Denton's leading social scientist and a character in Shock Treatment.
Biography
Shock Treatment
Judge Oliver Wright is guest starring on DTV's "Denton Dossier" hosted by Betty Hapschatt. After the show, Betty is fired from the studio and replaced by Ralph Hapschatt and Macy Struthers.
Oliver and Betty decide to start an investigation on the realness of Denton TV. They both discover that the McKinleys are actually actors and that "Dentonvale" isn't a real hospital. They also discover that Farley Flavors is actually Brad's twin brother.
Using her hair pin, Betty and Oliver successfully pick the lock on Brad's holding cell and they rush to the "Faith Factory" set to spread the truth of Farley Flavors.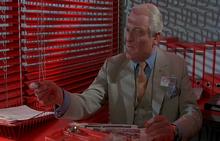 Oliver, along with Betty and Brad break through the "Faith Factory" set wall and confront Farley. They, with Janet, are arrested for a short time, but soon escape by hot wiring a car and leaving Denton while all of it's citizens are put into straight jackets and committed to "Dentonvale". It is also implied that he and Betty get together.
Music
Oliver Wright has solos in:
To read more about Shock Treatment:
Ad blocker interference detected!
Wikia is a free-to-use site that makes money from advertising. We have a modified experience for viewers using ad blockers

Wikia is not accessible if you've made further modifications. Remove the custom ad blocker rule(s) and the page will load as expected.